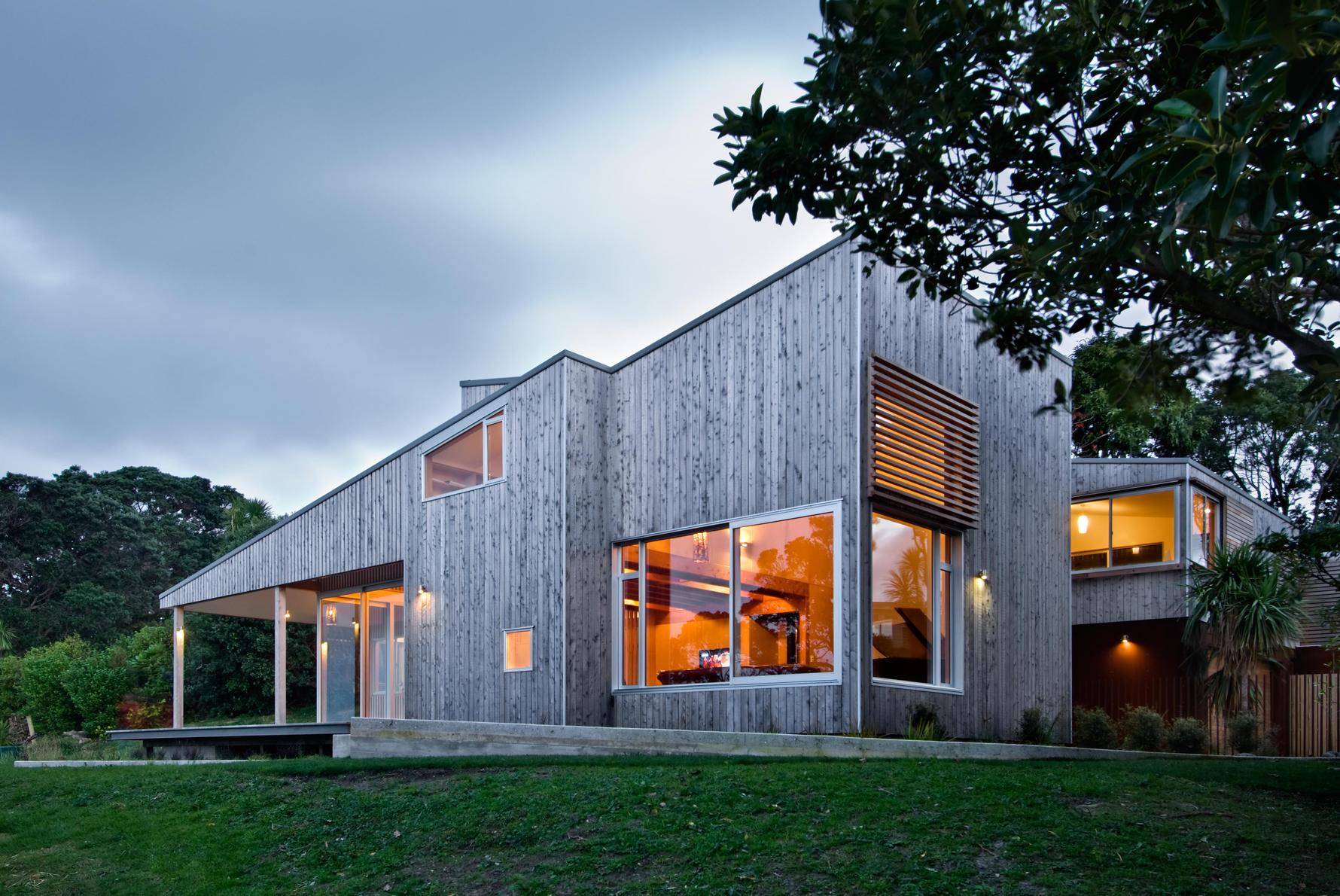 The house is sited above the entrance to Leigh Harbour in Omaha Bay with a view toward Little Barrier Island, and a small marae and māori cemetery. The site is exposed to the fierce easterly winds and loses the afternoon sun early. It is surrounded by mature Pohutakawa and a large Morton Bay Fig which filter views to the harbour.
 
The clients required a house for their family of 4 and the ability to both work from home. Kate is a consulting Naturopath and has clients visit the house for appointments. They desired the house to be very private, have a tower and some space to have yoga sessions. It needed to fit with Leigh community and incorporate sustainable design principles. They loved wood, high ceilings, intimate spaces, had lots of recycled industrial style furniture and needed a lot of storage space.
Conceptually, the house was designed as if it was slipping up out of the cliff, as one strata moving against another. The weathered, and sustainably harvested Lawson's Cypress cladding was chosen to merge with the trees surrounding the property. The way you move through the house follows this same idea, slipping through spaces, compressed in places and in others released. The nature of the house is unpredictable and unfolds as you immerse yourself within it.
  
Suspended concrete slabs are used to increase thermal mass and enhance the hydronic underfloor hearing. To minimise electricity use, gas was selected for underfloor heating and cooking; and hot water is solar powered with electrical backup. Recycled Kauri and Macrocarpa are used for floors, sills and doors, with hoop pine ply for wall linings and all joinery. 
 
Low water-use shower and toilets have been implemented, along with some reused fittings and appliances from the old cottage. A biolytix sewage system is used for waste water and rain water is collected from the roofs.
Awards
2009 NZIA National Architecture Award
2008 NZIA Branch Award