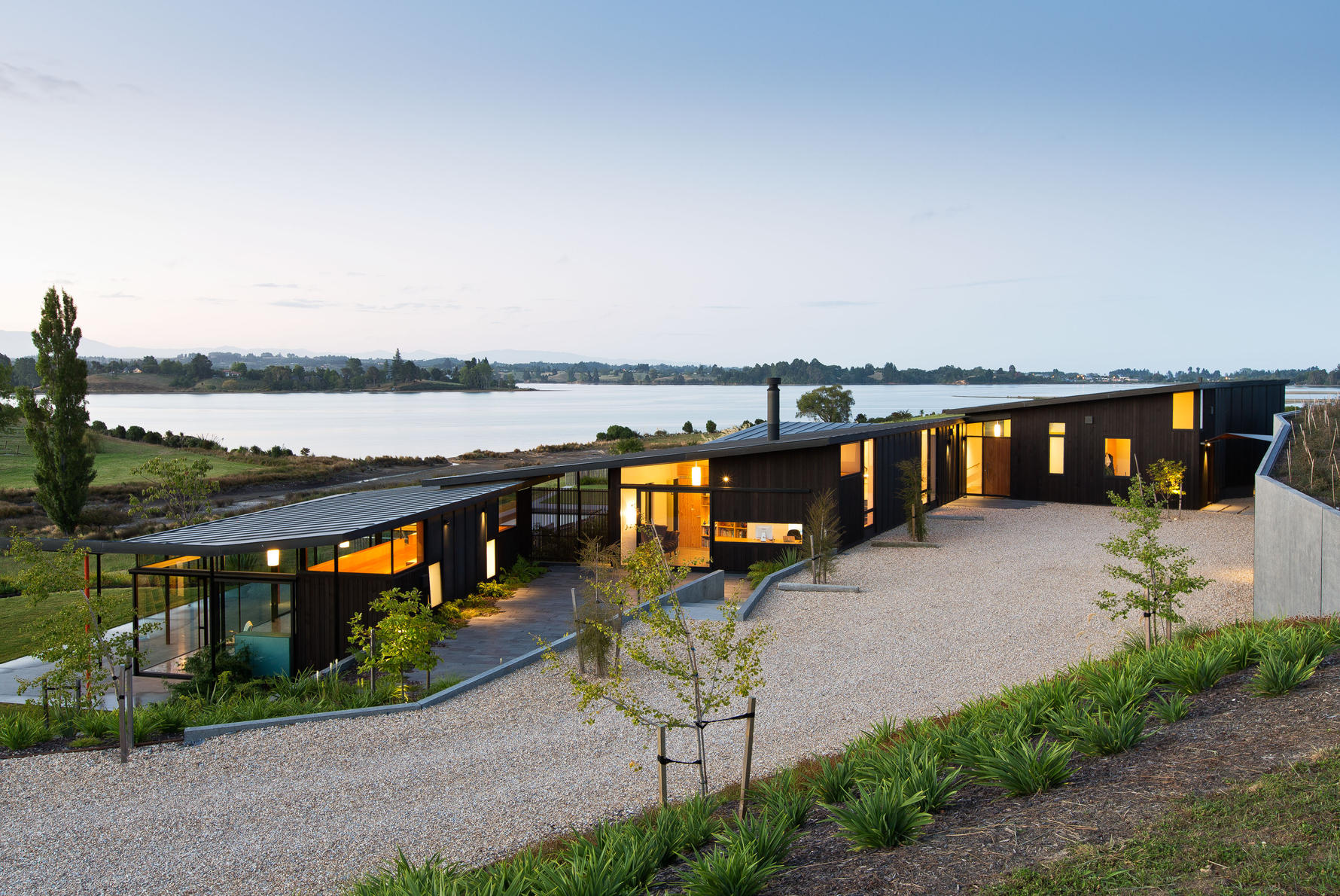 This family home is set within 17 ha of rural land, formerly an apple orchard, on the edge of Waimea Estuary. The property is a gentle valley between two ridgelines divided by a small tidal inlet lined in established poplar trees. The clients desired a house for a growing family and space to have their large extended family stay. They also desired a private house of low impact both in terms of energy use and visual presence. The land is being developed as a feijoa orchard and part is set aside for grazing horses and a dressage arena. The project also includes restoration of the wetland and tidal inlet and mitigation of the effects of interim orcharding. 
  
The design strategy arose from the site decision to place the dwelling below the ridgeline and shape and terrace the slope to accommodate the dwelling.  Working closely with landscape architect Megan Wraight, the terraces were arranged to afford a northern aspect for solar access views to Mapua inlet through which the Waimea estuary ebbs and flows.
 
The bird life in the estuary also inspired the design - with the roofs of the three pavilions of the dwelling gently overlapping each other and folding up at the ends to evoke wings. The roofs provide north and west shading and follow the ground slope. The building's black outer layer, white inner layers and highlights of orange posts and sills are inspired by the oyster catchers which inhabit the estuary.     
 
The energy systems for the dwelling are founded on sustainability principles with  a large array of solar thermal panels heating a buffer vessel for the underflooring, pool and potable hot water. This system is backed up by air source heat pumps, with provision for PV electricity products. The environmental control of the dwelling uses an innovative system developed by the client, via a hand held interface and remote programmability. 
Awards
2014 NZIA National Architecture Award
2013 NZIA Branch Award
2013 HOME Magazine Home of the Year finalist
Publications
Architecture NZ May / June 2014
HOME NZ Apr/ May 2013
HOUSES Issue 32 2014