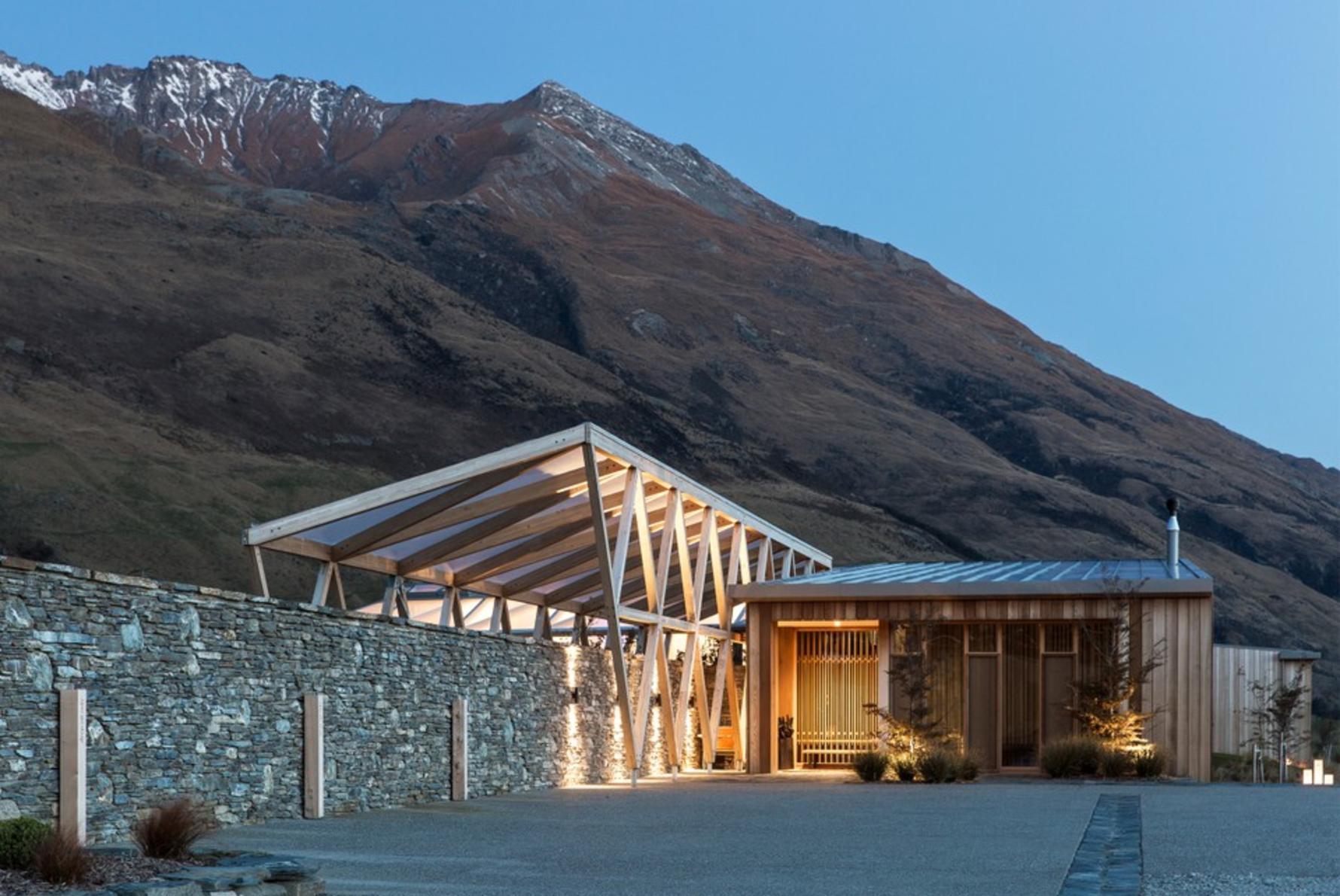 The Aro Hā retreat is a 16-32 bed yoga and wellbeing retreat with a spa and an associated residential community for staff, all founded on permaculture principles and capable of functioning off grid for periods of time. The site is on elevated schist foothills of the Richardson range near Glenorchy, overlooking the Lake and Greenstone Valley.
The central siting concept for the design of the retreat, is that of a necklace of buildings laid out on a path. This path reflects the journey which Aro Hā seeks to support for the guests; the provision of a transition space to enable personal growth and wellbeing.
The architectural language developed for the project draws from the natural environment. The forms are sculpted, typically mono-pitched with a singular weathered grey colouring to roof and walls. Local stone building elements are used sparingly and as anchors to otherwise timber-clad forms. The windows on the sunny faces are typically recessed into the building form in niches, to provide shading, in lieu of overhanging eaves, and provide measured solar gain for the passive house construction.
The community building captures the sun with attached triangulated food production structures for citrus and glasshouse kitchen gardens. This provides retreatants an education in permaculture principles.
The sacred space, and culmination of the 'path', is the Aro Hā Room, which has a billowed acoustic timber ceiling and timbered surfaces overlooking the empty surface of Lake Wakatipu. This room is designed as a reflective space for yoga, meditation, teachings and gatherings.
Aro Hā aims for self sufficiency: to be able to operate without connection to the grid, and with maximum on site food production. Almost every conceivable energy generation system is employed: solar thermal and wood boiler, all interconnected with a district heating scheme from thermal vessels, ground and roof based PV arrays, and micro-hydro generating into a large battery store.
Food production is integrated into the architecture with solar capturing greenhouses and winter gardens for extending the growing seasons.
TEAM
Ewan Brown
Hugh Tennent
Raji Magan
Sharon Jansen
Thomas Sheridan
Brenda Solon
Hannah France
Maurice Pipson

Awards
2016 NZIA National Architecture Award
2015 NZIA Branch Award
2015 Best Design Awards Gold
2016 New Zealand Commercial Project Awards Placemakers Tourism and Leisure Project Gold Award Winner
2016 New Zealand Commercial Project Awards Placemakers Tourism and Leisure Project National Category Winner
Publications
Architecture NZ Nov / Dec 2014
Interior Dec/ Feb 2014/ 2015