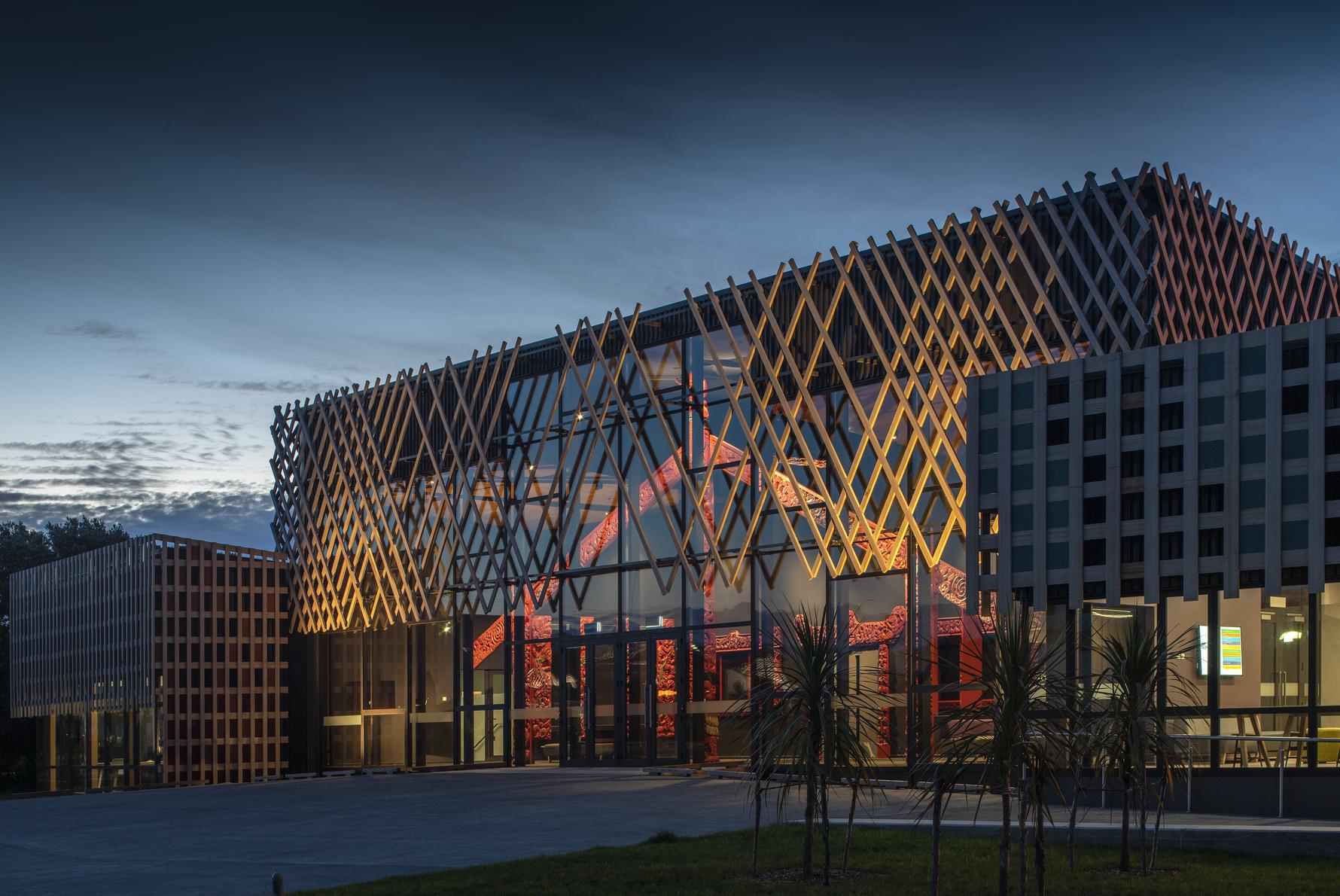 Te Ara a Tāwhaki
(The Pathway of Tāwhaki)
Te Ara a Tāwhaki at Te Wānanga o Raukawa is a welcome second major building for the Ōtaki based Wānanga by Tennent and Brown. Following campus master planning and a fire which destroyed the existing library, the project arose as combining a number of purposes for Te Wānanga; as a home for student services and social space, as the whare pukapuka (library) for the campus, and to provide a tiered teaching and interactive lecture space. Equally as important was to create a home for a long curated collection of whakairo (carvings) representing all of the marae of the three iwi who co-founded Te Wānanga, thus representing marae from Porirua to Rangitikei.
The design response was to evoke Ngā Kete Mātauranga e Toru, the Three Baskets of Knowledge acquired by Tāwhaki. Ngā Kete align in their qualities with the central ritual space housing the lecture theatre and carvings, and the two saddlebags of the library to the South and student hub to the North.
Formally the building is created of these three forms and clad in lattices of weathered timber in patterns to express Ngā Kete. The māhau carvings (porch) are displayed behind the central glass wall providing a protective display case. A pedestrian plaza between the building and the adjacent whare kai was created with Wraight & Associates, to shift the campus spaces to be pedestrian focused and continue the transformation of the campus.
Swales for stormwater attenuation and a centrally planted courtyard open to the sky provides natural light and ventilation softened by plants. The interior spaces seek to be calm with timber structure and attention to acoustic performance. The project serves as educational in form and substance, creating a new heart of the campus for staff, students and the entire rōhe (region).
MASTER CARVER
Te Whetū Mārama o te Ata Kereama
TIKANGA ADVICE
Ngarongo Iwikatea Nicholson
Huia Winiata

Awards
2019 NZIA Regional Architecture Award
2019 Best Design Awards Ngā Aho Silver
Publications
Architecture NZ May / June 2019
Architecture NZ March / April 2019