Tairāwhiti
Gisborne
Airport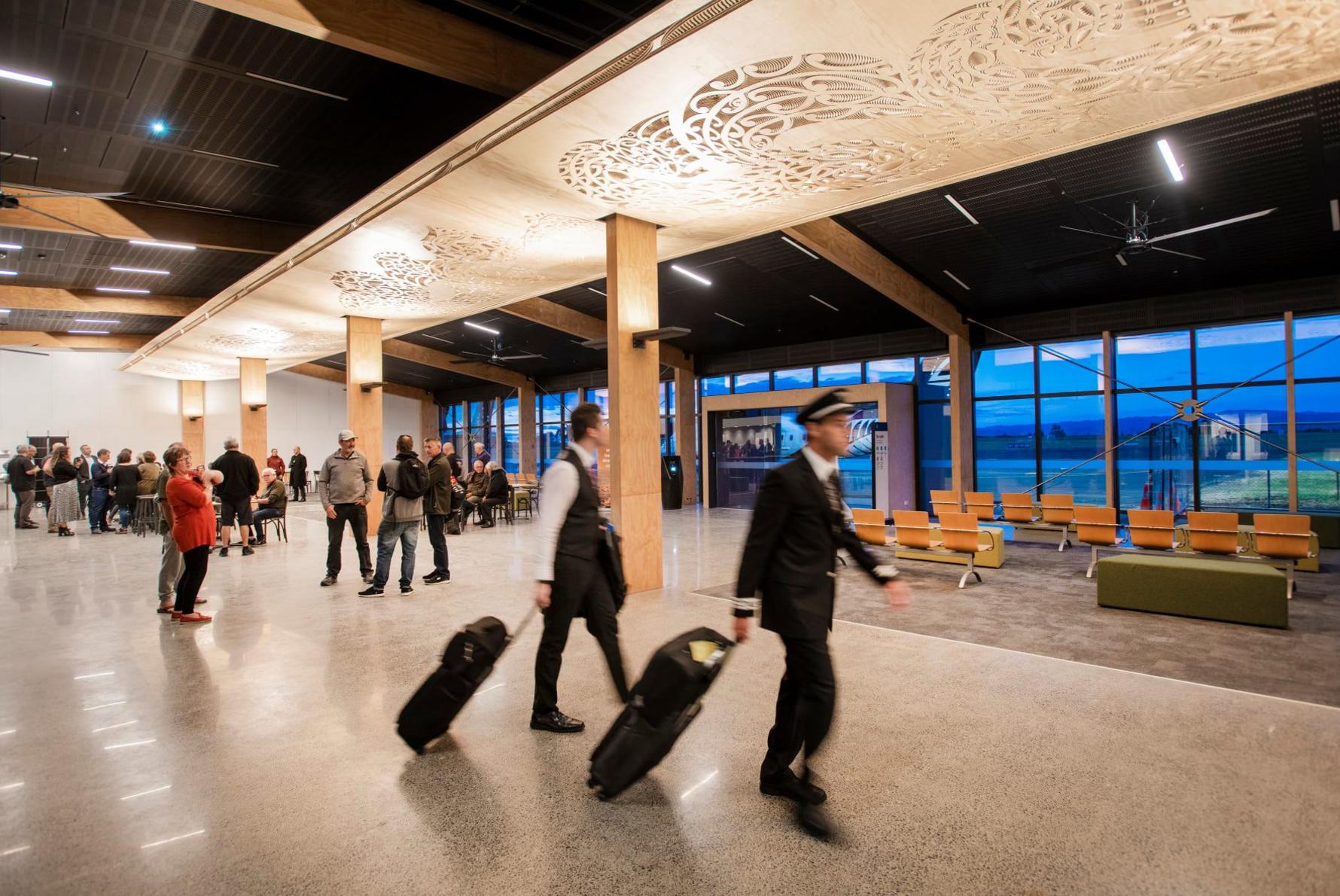 The redevelopment of Gisborne Airport is a two stage new build replacement of the current passenger terminal. The existing building was tired and had past its functionality for the client and suitability for modern air travel. The team were asked to provide a scheme that would act as a beacon for the region and encourage greater use, whilst ensuring that the airport remained operational at all times.
The building has two primary faces, landside and airside, the landside elevation represents the whare, ground based, airside represents the waka and the relationship to travel. This is also reflected in the materiality of the building. Landside is more grounded and as such, a more earthy palette of materials such as the rammed earth walls (comprising of local Greywacke rock) has been utilised. A series of twisted steel columns, angled towards Te Kuri (Young Nick's Head), the resting place of the ancestral canoe, resembling propellers provide a playful nod towards travel. Whereas airside, with its greater use of glazing, opens up to the sky and horizon beyond.
Two Pare's, carved from Totara (by Tiopira Rauna) welcome passengers on both landside and airside entrances. The entrance lobbies transition into a spacious public concourse, that includes a 42m long, CNC cut, plywood Tahuhu designed by Derek Lardelli, and manufactured by Makers of architecture that spans in between the LVL portals and frame the public space.
Sustainability is at the core of the building and it was designed to be LBC 3.1 (Living Building Challenge) compliant. LBC aims to radically transform how clients and designers both design and use buildings. This included in depth research of every single material and it's proposed use and where possible, substitution of a product to help towards achieving a toxic free environment. This process directly influenced the choice of purlins, as we calculated the carbon reduction for the use of timber purlins was vastly superior (a 38 tonne saving) compared to the steel alternative. Whilst certification might not be pursued, the key features of the building ensure that this could achieved at a later date.
LCA Carbon analysis done by a separate consultant over modules A-D, based on EN15978
As designed 525 tonnes of embodied carbon over modules A1-A5 cradle to practical completion (a 29% reduction from calculated business as usual BAU )
Which equates to 283KgCO2e/ m2
As designed 1090 tonnes of embodied carbon over modules A1-D cradle to cradle (a 42% reduction from calculated business as usual BAU )
Which equates to 589KgCO2e/ m2
Operational energy B7 - 125 kwh/m2/pa, Cibse benchmark approx. 275kwh/m2/pa
Completed in winter 2020.

Awards
2021 NZIA National Architecture Award
2021 NZIA Branch Award