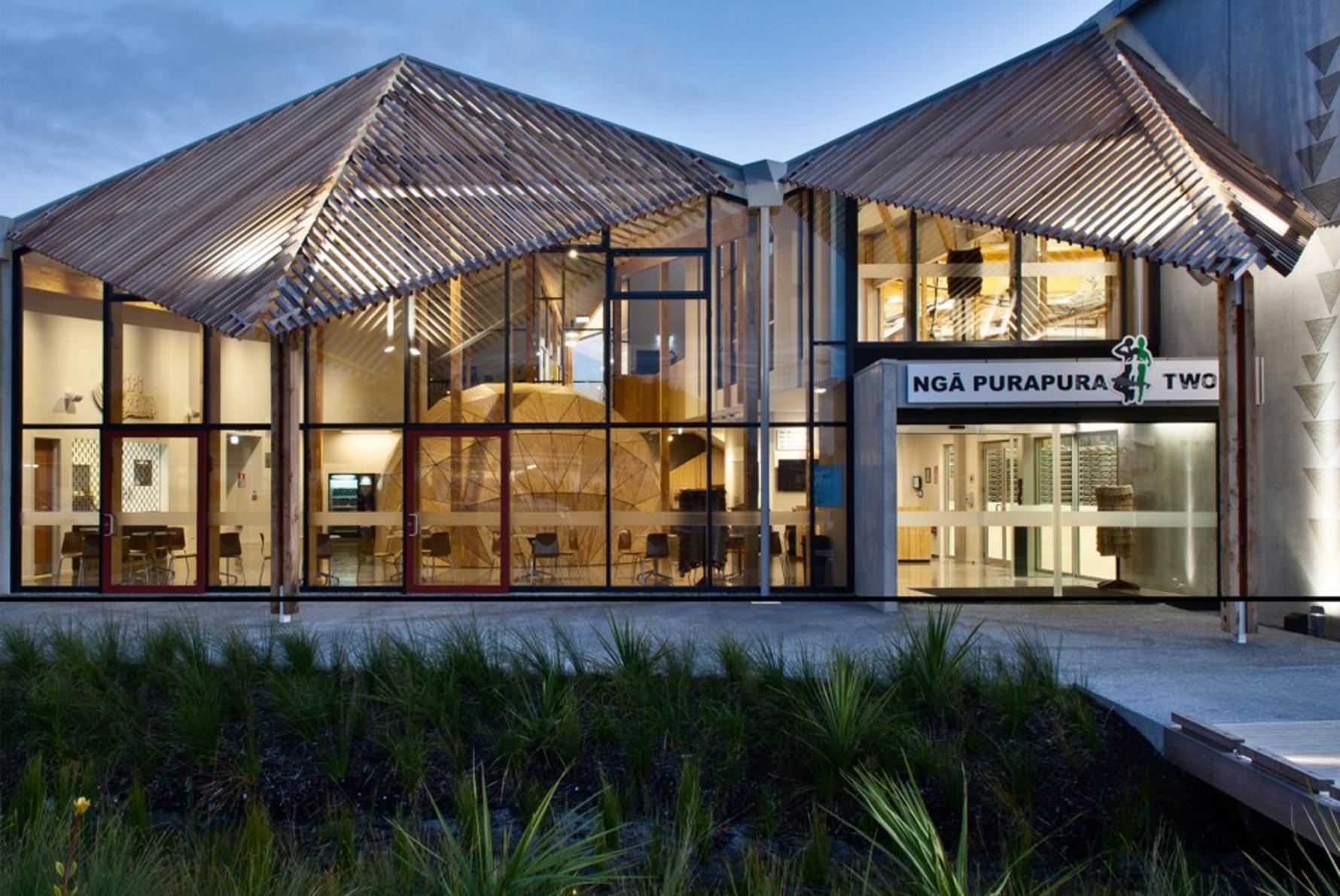 Ngā Purapura delivers a new type of building that aims to deliver sports, nutrition and lifestyle learning in an environment that embraces the wider community and gives expression to Tikanga Māori. 
The building incorporates two indoor sports courts, a cardio gym, nutrition training kitchen, classrooms, administration and academic offices.
The whakatauki (proverb) that underlies Te Wānanga -"E kore au e ngaro he kakano i ruia mai i Rangiatea" (I will never be lost, the seed which was sown from Rangiatea) - is also expressed in the nohopuku (reflective) space, being in the form of a kakano (seed).  This space is also for developing new kawa (protocols) in support of the kaupapa (purpose) of the facility. 
The holistic model of Māori health 'Te Whare tapa Wha' (the four sides of the house) – addresses the need for physical (tinana), mental and emotional (hinengaro), spiritual (wairua), and social (whanau), aspects of life - all to be in balance for wellbeing.  The design represents this model with a four folded roof, creating spaces with associated functions leaning against the neutral form of the sports hall.
 
The Kaupapa panels, sandblasted into the external sports hall walls were designed by Te Wānanga O Raukawa students.

Awards
2013 NZIA Branch Award
2013 Best Design Awards Ngā Aho
2013 Best Design Awards Purple Pin
2013 Interior Awards Finalist - Civic
2013 Interior Awards Finalist - Craftmanship
2012 Sustainability Awards Excellence in Concrete for the Community
Publications
Architecture NZ July / Aug 2012
Art of the Architect 2014
Interior June/ Aug 2013
Interior Dec/ Feb 2012/ 2013